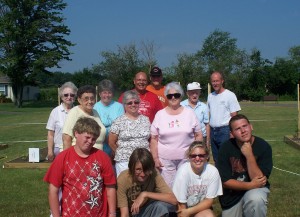 On June 30, a community gardens effort was completed for the senior residents of Clinton Commons I & II located on Thorne Avenue in Wilmington.   There are currently 10 separate garden boxes that the residents will be able to use for an assortment of home grown fruits and vegetables.
"This will be a great opportunity for the residents to work on a project that will affect many in the local community," said Clinton County Community Action Housing Manager, Jane Newkirk.  "With the hard times that everyone has been going through, this is a perfect way to provide quality food at an affordable cost."
The whole effort has been a collaboration of both young and old.  The senior residents and youth from the Summer Youth Employment Training Program provided by The Department of Job and Family Services have worked together to make this garden possible.  In addition to this, Wilmington College Professor Monte Anderson has spent many hours volunteering to help with the planning and implementing of the gardens.
"It has been great to see the team work that has been shown in order to bring this project together," said Newkirk.
Though this project got a bit of a late start in the growing season, there are still plans to take full advantage of the time that is left and prepare for the next year.  The residents are very excited of things to come and are looking forward to reaping the benefits of their hard work.