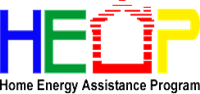 Lots of families struggle every winter to pay for their heating bills. The Home Energy Assistance Program (HEAP) provides assistance to eligible households in an effort to help pay these bills.  The amount of assistance will be determined by a couple of different factors, including: federal funding levels, how many people live in the household, total household income, and the primary fuel used to heat the home.
Winter HEAP runs from November 1 until March 31.  The program is here to help many families in the area have heat in the winter months.  For the 2015-2016 program the income eligibility is at 175% of the poverty level. Please check this guidlines to see if you qualify:
Size of Houehold                     Total Household Income
1                                                     $20,597.50
2                                                     $27,877.50
3                                                     $35,157.50
4                                                     $42,437.50
5                                                     $49,717.50
6                                                     $56,997.50
For household with more than 6 members, add $7,280 per member.
A household applying for HEAP must report total gross household income for the past 12 months for all members, except wage or salary income earned by dependent minors under 18 years old.  Both homeowners and renters are eligible for assistance.  The 2014-2015 season will bring new regulations for households claiming zero income.
For more information on Heating Assistance please call Debbie Schalk at 937-382-1234.