Click Here to view the resource guide so see the many benefits available to Clinton County residents.
Starting July 1, 2013 Clinton County Community Action will be operating the Summer Crisis Program to help eligible applicants with payments on their electric bill.   The program will run until August 31, 2013.  For more information on income guidelines and other eligibility requirements call 937-382-1234.
Cargill, a global producer and marketer of food, agricultural, financial and industrial products and services, with a local hub here in Wilmington, recently made a donation of $10,000 to our Food Pantry.  As part of their Hunger Relief grant program, Cargill chooses food pantries in local areas that are serving a population that is in the most need.  With the ever rising unemployment and uncertainty in Clinton County, we were fortunate enough to be one of the recipients of the $10,000 grant.  We would like to thank Cargill and everyone on their Ohio Nourishing People Team for making such a big impact on our community.
On December 15, 2010 National Bank and Trust donated $500 to Community Actions Food Pantry.  This donation came right on the start of the Christmas season and made a definite impact on providing food for the holiday.  We would like to thank Mary Jane and her staff for the donation and helping to support this community.
Pictured from left to right are member of the ASTAR Air Cargo Charity Committee Team, members of the ASTAR Executive team, and Representatives of Community Action.  VP, Flight Operations Pete Blessing, Kara Schulte, Alisha Gatewood, VP Operations Finance Martin Godly, Carol Ewing (CCCA), Melissa Cherwin (partially hidden), Larry Weigel, Wilma McBrayer (CCCA), VP Employee Relations Rob Miller and Kathy Johnson.
Every year around Christmas, ASTAR makes donations to local charities to help support Christmas giving.  This year Clinton County Community Actions Food Pantry was chosen to be a recipient.  ASTAR generously donated $10,000 in order help put food on the shelves of the Food Pantry, which in turn will help put food in the hands of families that need it most this time of year.  A sincere thank you goes out to ASTAR and their team for helping to support a much needed program here in Clinton County.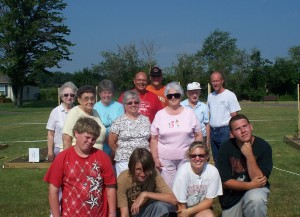 On June 30, a community gardens effort was completed for the senior residents of Clinton Commons I & II located on Thorne Avenue in Wilmington.   There are currently 10 separate garden boxes that the residents will be able to use for an assortment of home grown fruits and vegetables.
"This will be a great opportunity for the residents to work on a project that will affect many in the local community," said Clinton County Community Action Housing Manager, Jane Newkirk.  "With the hard times that everyone has been going through, this is a perfect way to provide quality food at an affordable cost."
The whole effort has been a collaboration of both young and old.  The senior residents and youth from the Summer Youth Employment Training Program provided by The Department of Job and Family Services have worked together to make this garden possible.  In addition to this, Wilmington College Professor Monte Anderson has spent many hours volunteering to help with the planning and implementing of the gardens.
"It has been great to see the team work that has been shown in order to bring this project together," said Newkirk.
Though this project got a bit of a late start in the growing season, there are still plans to take full advantage of the time that is left and prepare for the next year.  The residents are very excited of things to come and are looking forward to reaping the benefits of their hard work.
Starting immediately the Food Pantry has enhanced the way food boxes are being passed out. Now you will begin receiving more food for the amount of members living in the household. If you or someone you know needs food assistance, stop in our office or call 937-382-8365 to receive help.